what is opera? here is a few links that gives a detailed description on what opera is:
for our unit 2, we were tasked in groups of 4 or 5, to create a model of a chosen scene from the opera – Barber Of Seville. my group decided to create a model of scene 1 and 2 of The Barber Of Seville which, together, we constructed a some-what -like spider diagram of anything related to the key words, for example: "opera", "Barber Of Seville", " 18th century", "style of clothe and make-up", "interior design"…..etc.
ACT 1
Count Almaviva, a Spanish nobleman, is in love with Rosina, the rich ward of Dr Bartolo, an old physician, who plans to marry her himself. Almaviva has followed Rosina from Madrid to Seville, disguised as a poor student called Lindoro.
From the street outside Dr Bartolo's house, Almaviva serenades Rosina, assisted by a group of actors and musicians. Unfortunately, the serenade produces no response from Rosina, so Almaviva enlists the help of Figaro, a barber, who prides himself on his ability to manage the affairs of the city. They realise that they have, in fact, met before, and Almaviva explains why he is in Seville incognito. He is delighted to discover that Figaro is a general factotum to the Bartolo household, who enjoys easy access to the house and gardens. While they are talking, Rosina appears on the balcony with a note for the handsome young student who keeps visiting the house. Despite Bartolo stealing up behind her, she manages to drop the letter from the window and it floats down to Almaviva. Rumours of Almaviva's interest in Rosina have reached Bartolo ears and he decides he must waste no time in marrying her himself. He gives strict instructions to the servants that while he is out no one should gain admittance to the house.
Figaro persuades Almaviva to answer Rosina's note with a further serenade, but she is interrupted before she can respond. Lured by the promise of money, Figaro devises a plan whereby Almaviva can gain access to the Bartolo household: he must pretend to be a drunken soldier billeted on Dr Bartolo.
Figaro has inveigled his way into Dr Bartolo's home and managed a brief meeting with Rosina before Bartolo appears and expresses his annoyance at Figaro's constant disrespect towards him. He questions Rosina about her meeting with Figaro, as well as interrogating the servants. When Rosina's singing teacher Don Basilio arrives, Bartolo brings him up to date on the situation with Rosina. Meanwhile, Figaro has overheard Bartolo and Basilio's conversation. He starts to prepare the ground for 'Lindoro', but soon realises that the wily Rosina is already ahead of him.
Bartolo suspects Rosina of writing a letter to 'Lindoro'; when she protests her innocence, he warns her not to trifle with him, advising her to find more plausible excuses for a man of his standing.
Almaviva, now disguised as a soldier, arrives to take up his 'billet' in Bartolo's house. Rosina is of course delighted when he reveals that he is really her secret admirer. Bartolo's annoyance at Almaviva's drunken behaviour causes such a row that the militia are called by the neighbours. The Count, however, narrowly escapes arrest, much to Bartolo's annoyance.
Act II
Assuming yet another disguise, Almaviva enters the house as Don Alonso, a music teacher who says he has come to give Rosina her music lesson in place of Don Basilio, who, he claims, has suddenly fallen ill. To gain Bartolo's trust, Don Alonso reveals that he has intercepted a note from Almaviva to Rosina. Bartolo fetches Rosina for her lesson. While Bartolo dozes, Rosina and 'Lindoro' express their love and make plans to elope that night.
Figaro arrives to shave Bartolo. He manages to steal the key to Rosina's balcony and lures Bartolo away from the music room by smashing a pile of crockery. All is going to plan until Don Basilio unexpectedly appears, but Figaro quickly pays him off and Basilio withdraws. Figaro resumes shaving Bartolo, and tells Rosina of his plan for the lovers to make their escape. Bartolo, however, has not been entirely duped, and penetrates Almaviva's disguise. The game is up for the lovers – albeit temporarily.
Berta, Bartolo's servant, ruefully comments on the foolishness of old men wanting to marry young wives. When Bartolo discovers that Basilio has never heard of Alonso, he decides to marry Rosina without delay. He confronts Rosina with a letter she addressed to Lindoro and catches her by surprise when he makes out that Lindoro is clearly acting on Almaviva's behalf.
Following a violent thunderstorm, Figaro and Almaviva climb into the house by way of a ladder and an open window. They are confronted by Rosina who is angry at being 'used' by Lindoro – until she learns that he is in fact Almaviva and falls willingly into his arms. Figaro is anxious for the lovers to be off, but they discover they are unable make their escape because Bartolo has removed the ladder.
Basilio returns with the notary who is ready to marry Rosina to her guardian, but a bribe and threats easily persuades Basilio to witness instead the marriage of Rosina to Almaviva. Bartolo and the magistrate appear too late and he is obliged to acknowledge he has lost Rosina.
Research – The Barber Of Seville:
here are the links i found my research about The Barber Of Seville on:
The Barber of Seville, or The Useless Precaution is an opera buffs in two acts by Gioachino Rossini with an Italian libretto by Cesare Sterbini. The libretto was based on Pierre Beaumarchais's French comedy La Barbier de Selville (1775). The première of Rossini's opera (under the title Almaviva, o sia L'inutile precauzione) took place on 20 February 1816 at the Teatro Argentina, Rome, with designs byAngelo Toselli.
Rossini's Barber has proven to be one of the greatest masterpieces of comedy within music, and has been described as the opera buffa of all "opere buffe". After two hundred years, it remains a popular work.
here is a youtube video that show's the play – Barber Of Seville:
Gioachino Rossini –
Gioachino was born in Pesaro, 29th of February, 1792 and died in Passy on the 13th of November, 1868, he was the most significant Italian composer of the first half of the nineteenth century. Born to working musicians – his father was a horn player, his mother an opera singer – between 1813 and 1822 his operas, both comic and serious, conquered Italy, Naples especially. His Parisian seasons between 1822 and 1829 consolidated his achievements at home with spectacularly grand works such as Le Comte Ory and William Tell. After 39 operas in 19 years, Rossini felt with Tell he had reached not only the culmination of his career but also a natural resting point, and therefore retired from operatic composition. He did not stop composing altogether – one of the delights of his retirement years is his Petite messe solenelle, an ironic title for a sacred work that is neither small nor solemn.
Rossini's Musical Style
Celebrated for his comic operas such as The Barber of Seville, which are full of music that is sensuous, brilliant and rhythmically vital, a typical example of Rossini at his best can be found in the barber Figaro's 'Largo al factotum'. But Rossini's opera seria (serious operas) are equally important (though less frequently performed) and were a formative influence on Giuseppe Verdi in the second half of the 19th century and figures as diverse as Meyerbeer, Offenbach and even Richard Wagner. Rossini undoubtedly transformed the form and content of Italian opera, establishing a new set of musical procedures that would invigorate and develop the genre long after he stopped composing.
Though most of Rossini's stage works (especially the opera seria) fell out of the repertoire after his death, they were re-established in the twentieth century and occupy a key position today. Even the status of his opera seria has now been widely accepted, and performances of William Tell or The Lady of the Lake are no longer the rarities they once were.
( here is a link about Giuseppe Verdi: https://www.eno.org/composers/giuseppe-verdi/)
(here is a link about Richard Wagner: https://www.eno.org/composers/richard-wagner/)
pathway –
while researching Barber Of Seville we were task to choose a pathway which would help us to narrow down the direction we would take for unit 2 – barber of seville, our options were: fine art, media/photo, visual communication, 3D/ sculpture and textile/ fashion and since for my future career i want to be a jewellery maker and designer, i decided to choose 3D and Sculpture because i found this pathway is the most related to jewellery making and designing.
since for unit 2 – (Barber of Seville), i want to focus on 3D and sculpture as well as jewellery, I'm going to focus on the fashion in the 18th century, such as make-up, jewellery and clothing designs and interior design, for example: the colours, patterns and shapes they used for clothes and interior design.
18th century fashion and interior design –
fashion – clothes design –
Men's Dress:
At the beginning of the 18th century the male silhouette differed greatly from that of today. A typical outfit consisted of a full-skirted knee-length coat, knee breeches, a vest or long waistcoat (which could be sleeved), a linen shirt with frills and linen underdrawers. Lower legs showed and were an important part of the silhouette. Men wore silk stockings and leather shoes with stacked heels of low or medium height. The whole ensemble would have been topped by a shoulder-length full-bottomed wig and a tricorne (three-cornered) hat with an upturned brim.
As the century progressed, the male silhouette slowly changed. By the middle of the century the wig was usually tied back (known as the tye or bag wig). By the end of the century it was out of fashion altogether except for the most formal occasions. Undergarments and knee breeches did not change very much. Coat skirts gradually became less full and the front was cut in a curved line towards the back. Waistcoats became shorter. The upper leg began to show more and more and by the end of the century breeches fitted better because they were often made of knitted silk. Shoes became low-heeled with pointed toes and were fastened with a detachable buckle and straps or ribbon on the vamp (the upper front part of a boot or shoe).
woman's dress:
In the early 18th century women wore a dress known as a mantua for formal occasions. The mantua was an open-fronted silk or fine wool gown with a train and matching petticoat. The train was worn looped up over the hips to reveal the petticoat. The bodice had loose elbow-length sleeves finished with wide turned-back cuffs. A hoop petticoat and several under-petticoats wore worn beneath the outer petticoat.
To give the figure the required shape a corset was worn under the bodice. It was made of linen and stiffened with whale bones inserted between parallel lines of stitching. They fastened with lacing down the back which could be laced tightly to give an upright posture to the torso and to emphasise the waist. A 'busk' or strip of bone, wood or metal was sometimes incorporated into the front of the stays.
In the 1730s the 'sack back' dress worn over a hoop petticoat became increasing fashionable. It remained in fashion until the 1780s. The sack back was made from five or six panels of silk pleated into two box pleats at the centre back of the neck band. It flowed down and was incorporated into the fullness of the skirt. It was worn over a matching petticoat as well as a hoop petticoat. The 'nightgown style' or style anglaise had a pleated back. The pleats were stitched flat from the back of the neck to the centre back waist.
Hoop petticoats were usually made of linen with split cane hoops stitched in at intervals and held the skirt of the petticoat and the robe out at the sides. They were at their widest in the 1740s and 1750s when they could measure over 1.5m across. Hoop petticoats were worn on formal occasions. As with many fashions, it is hard to say why such a cumbersome outfit was popular. One reason might have been that it displayed the richly embroidered cloth of the skirt that indicated the wearer's wealth.
Between the 1780s and 1800 a very noticeable change took place in the female silhouette. The waistline became higher until it reached the bust. The skirt was reduced in width and hoop petticoats were discarded except at court. In their place crescent-shaped pads were worn at the centre back waist beneath the skirt to help fill out the gathers at the back of the dress. In the 1790s corsets were lightly boned and usually made of linen. Hair was frizzed or worn in short curls.
here are a few youtube videos that show how a mantua dress is made and worn:
here are the website i found my research on:
the most helpful website i used was: http://demodecouture.com/hairstyles-cosmetics-18th-century/
hair styles-
Just as fashions change, so too do styles in hairstyles and cosmetics. The second half of the 18th century is an era particularly identified with hair and makeup, as these became such potent symbols of aristocracy during the Enlightenment and French Revolution. France and (to a lesser degree) England were the fashion leaders of this era, and it is to these countries that this article looks to identify the changing trends in hair and makeup.
Hair was worn close to the head with a small linen cap which sometimes had lace lappets, streamers that hung
either side of a woman's cap. The cap was covered by a hood or hat for outer wear.
During the 1770s hair styles became higher, as they were combed over a padded roll or worn over a frame.
The 18th century is particularly associated with wigs, but these were primarily worn by men in the period. Wigs were introduced in the 17th century, when King Louis XIII of France (1610-43), who had let his own hair grow long, began to bald prematurely at the age of 23. Courtiers were quick to emulate the fashion, which spread to England during the period of the Restoration of Charles II (1660s-80s). Over time, specific wig styles began to be associated with various professions, and thus considered de rigeur for men of the middling and upper classes. In 1673, an independent wigmakers' guild was created in France; by the late 18th century, the number of French master wigmakers had more than quadrupled.
However, women rarely wore whole wigs. Instead, they increasingly hired professional hairdressers (coiffeurs) who added false hair to their natural hair. While they were expected to augment their own hair with false hair, padding, powder, and ornaments, women's hair was supposed to remain "natural" by avoiding the wholesale artifice of men's wigs.
powdered hair –
Both men and women powdered their hair or wig throughout the 17th and 18th centuries. Powdering was introduced when King Henry IV of France (1589-1610) used dark powder on his greying hair. Hair powder was originally used mostly as a degreaser. White haired wigs were popular because they were expensive and rare, and so men and women began (in the early 18th century) to use white powder to color their wigs and hair, as it was less destructive than dye.
Hair powder was made from a variety of materials, from the poorest quality in corn and wheat flour, to the best quality in finely milled and sieved starch. It was usually white, but it could also be brown, grey, orange, pink, red, blue, or violet. It is important to note that the application of white powder over dark hair produces shades of light to dark grey, not the paper white seen in films and costume wigs. White powder applied over very light hair produces a heightened blond effect. Powder was applied with a bellows (the powderee being covered with a cone-shape face mask and fabric smock), with a puff for touchups and a knife for removal.
here are a few youtube videos that show how, in the 18th century, they did there hire:
make-up –
Beginning in the 17th century and continuing throughout the 18th century, both men and women in England and France wore obvious cosmetics. Gender differences were less important than class differences – cosmetics marked one as aristocratic and à la mode, and were adopted as well by those who were trying to rise in social status or become fashionable. Makeup was not intended to look natural – in fact, it was called "paint" — but instead, "…to represent one's aristocratic identity as declaratively as possible through cosmetic artifice" (Hyde). Women and men showed their respectability and class through white skin, and heavy makeup was considered more respectable than naturally light skin.
Cosmetics also had practical aims – their use created what was considered an attractive face, and they could hide the effects of age, blemishes, disease, or sun.
A review of portraiture shows that Englishwomen were less likely to wear obvious cosmetics than Frenchwomen in the 1750s-60s (in other words, they were wearing cosmetics but with a more natural look) – but by the 1770s-80s, Englishwomen and Frenchwomen wore nearly identical amounts of cosmetics. In the 1780s, heavy use of cosmetics declined with the growing trend of a more "natural" look.
face – Shiny white face paint was applied across the entire face and shoulders. The most popular white makeups used on the face were made of lead, which was popular for its opacity despite knowledge of lead poisoning. Kitty Fisher, a famous English beauty, died at age 23 (in 1767) from lead poisoning. Blanc could also be made from bismuth or vinegar. Veins could be traced with blue pencil to highlight the whiteness of the skin.
English actress Elizabeth Linley by Gainsborough, 1775.
Lips could be reddened with distilled alcohol or vinegar. By mid-century, red pomades (some in stick forms) for lips were being sold. The shades of red seen on lips varied between pink and coral, occasionally veering into burgundy.
Eyes sometimes had a bit of reddish color around them, probably caused by contrast with the white makeup or a reaction to the lead in blanc, but were otherwise left bare. Eyebrows were half moon shaped with tapered ends, and could be darkened with kohl, elderberries, burnt cork, or lampblack (soot from oil lamps). Court men and women sometimes plucked and painted their eyebrows, or occasionally wore false eyebrows made of mouse fur.
Beauty patches ("mouches") (made of silk velvet, satin, or taffeta and attached with glue) were part of a formal and/or aristocratic look. Their height of popularity was in the 17th century, but they still continued to be worn in the 18th century. They were meant to heighten the contrast with white skin. There were numerous sizes and shapes, worn in various positions with supposed meanings. In England, they took on a political meaning, with supporters of Whigs and Tories wearing patches on opposite sides of the face. Occasionally, patches could be worn together in designs, like trees or birds on the cheek of forehead.
here are a few youtube videos that show how, in the 18th century, they did there make-up:
jewellery –
About 1725, Brazilian diamonds in large numbers were imported into Europe, and, during the course of the century, this stone became so popular that imitations were produced. The jewelry of this period seems to have been created to glorify and exploit the cutting of diamonds and other precious stones. The dense forms of Baroque jewelry were replaced by an entirely different conception, in which the design was to appear in gems alone, while the metal setting was concealed to the greatest extent possible.
History of Silhouette –
Painted on paper, card, vellum, ivory, silk, or porcelain;
Painted in reverse on glass;
Hollow cut, usually with the aid of a machine but, very rarely by hand. In this process the figure is cut away from the paper thereby leaving a negative image. The paper outline is then backed with a contrasting color of paper or fabric;
Cut freehand with scissors or knives and then pasted to a contrasting (usually light-colored) background (cut & paste).
If you would like to learn more about antique silhouettes and silhouette making in the period of 1760 to 1870, I recommend reading any of the following books. They are all out of print but I will try to good used copies of them for sale at Books. If I don't have a copy I might be able to direct you to a used and rare bookseller with the one you are looking for in inventory.
Alice Van Leer Carrick, Shades Of Our Ancestors (Little, Brown, and Company 1928).

E. Nevill Jackson, Silhouettes A History and Dictionary of Artists (Dover Publications, Inc. 1981) **This book was first published in 1938 under the title Silhouette: Notes and Dictionary.

Sue McKechnie, British Silhouette Artists and their Work 1760-1860 (Philip Wilson Publishers Ltd 1978)

Blume J. Rifken, Silhouettes in America, 1790-1840 A Collectors' Guide (Paradigm Press, Inc. 1987).

Emma Rutherford, Silhouette: The Art of the Shadow (Rizzoli New York 2009).
here are the websites I got my research off:
here are some websites i found that sell 18th century jewellery antiquities:
interior design –
Georgian art and style spanned a little over a century starting in 1714 and lasting into the 1830's under the reigns of Kings George I, II, and III. In Britain, it was divided into three periods: Early (1714 to 1750), Middle (1750 to 1770), and Late (1170 to 1810). Georgian periods following closely after the Queen Anne era of 1702 to 1714.
The arts and interior design styles of the British Georgian era were loved and adopted by the elites, the well-travelled, and affluent 18th century Americans. By 1720 it became the trend-setters of the Georgian style interiors and furnishings. The wealthier farmers and small landowners soon joined the trend of introducing classic forms and styles typically found in European homes into their own interpretation of interior design.
As the early-18th century brought on a new social lifestyle that included tea parties, building book collections, and parlour games, it brought with it a style consciousness that made people buy and decorate their homes with furniture and furnishings not only for their function, but also for aesthetic merits.
During the reigns of King George I and a portion of that of King George II, architectural materials, which tended to be heavy in proportion and detail, were made basically from pine and walnut. As people began to take more interest in the comfort and appearance of their home's interiors, many became art and craft collectors of sorts.
In the early years of the 18th century, interiors had complete architectural details. Fireplaces came with dwarf columns, architraves, frieze, and projecting cornices that formed the ornate marble mantlepiece. Architectural elements were introduced in their interiors – large doorways, high ceilings, sculptures, and well-proportioned rooms, while stone and marble floors tied in nicely with the extravagance of the period.
By the middle of the century, there was a Gothic revival movement that ushered in interior features like fan-ribbed vaulting, details of medieval tombs, and tracery patterns. This style extended to the outdoor gardens—pagodas, gazebos, sheltered seats, pavilions, and colonnades (porches and arcades).
Georgian interiors came with interior wall panelling made with knotty pine wood and wallpaper became a substitute for wall coverings. Paper imitating tapestries and marble-like paper was extensively used as wall finishes and by the end of the century was replaced by scenic and pictorial papers with Chinese-themed designs.
Furniture pieces were typically curvilinear chairs, tables, chests, etc., with motifs. The use of heavy lacquer and were produced exclusively with rich dark red mahogany wood and because of an Oriental influence chests and shelves were covered with Chinaware objects like teapots, teacups, figurines, and vases among other things.
By the Mid-Georgian era during the reign of George II, there was a tendency towards lighter proportions in furniture styles and interior design. This was also when the Chippendale furniture styles emerged. They were produced by the famous London cabinet maker, Thomas Chippendale. His designs were influenced by classic French, Chinese, Gothic, and Louis XV forms and ornamentation.
Colour schemes were pale tones like soft greys, dusty pinks, and flat white, though the early Georgian colours were influenced by bold baroque colours of the past era such as burgundy and sage green.
Some Main Features of Georgian Period Interiors –
Popular Georgian era features in interior design, furniture styles, and finishing types include:
Roman style columns (Corinthian, Ionic and Doric)
High ceilings
Sash windows
Alcoves and niches
Carved sculptures of Roman gods and goddesses
Vases and urns
Swags, ribbons, and garland motifs
Shield and urn motifs
Classical figures
Pastel (subtle) colour scheme – often soft greys, pea greens and whites
Stonework
Wall and floor stencilling
Wallpaper with simple Oriental designs
Wall murals depicting picturesque scenes and landscape
Marble
Wrought iron works
White plasterworks
Animal figures – satyrs, dolphins, griffins and sphinxes used as bases or handles
Intricate mouldings – but not grandiose
Elegant furniture with soft fabrics
Mural decorations
Extensive wall panelling
Typical Furniture Designs of the 18th Century Georgian Era
Curvilinear furniture designs were very prominent and a certain amount of rich detailed carvings of French origin were applied to even the small surface areas.
Many of these traditional furniture items have become highly valued collectables today with a great number of them still owned by prominent Pennsylvania families, many of them still carrying the labels of the original furniture makers.
Chairs
Wing chairs and chairs with hoop or shield backs are typical of Georgian furniture. Chairs were designed with cabriole legs and referred to as the bandy, and this style was soon followed by the claw and ball foot. The fiddle back chair or Queen Anne splat back chair was also introduced during the American Georgian period. Sofas, couches and daybeds were common pieces that were upholstered stylishly and adorned with loose cushions, and roundabout chairs became trendy items of furnishing
Tables
Tables comprised knee-hole tables and desks, tilt-top pie-crust tables, consoles, pier tables. The reproductions were usually accurate but frequently varied in proportion and detail. Desks with cabinet tops and secretaries with slant lids were intricately made and very popular at this time. There were gate-leg tables that fold down to the size of small consoles; breakfast tables with tops that tilt up and fold over so that they can be stowed away somewhere at the side of the room until needed.
Soft Furnishings
Soft furnishings were majorly made with glazed cotton fabrics have been used for both upholstery and window treatments with pagoda-style pelmets. Armchairs and divans often had loose covers made from cheap ticking or striped linen to protect fabrics which were removed whenever they had special occasions.
Cabinets
Cabinets and cabinetry works were one of the most popular items of furniture you'll find in homes. They had cabinets to display their precious tour collections of imported porcelain and earthenware, then there were sideboards, bureaux and bookcases, China and linen cabinets just to mention a few. Most of these cabinets came with the scroll or triangular pediments. And examples of earlier designs featured the cabriole legs with lion's paw, club foot and the claw-and-ball foot.
Bedroom furniture
Bedroom furniture had their own distinct style and uses and consisted of high-boys, chests, low-boys, chest on chests, bureaux and four-poster beds. The quality of their poster beds depended on how wealthy you are. They also had quilts that were stuffed with down collected from bird's nests (not plucked). The valuable quilts made with silk, linen or cotton cases were much sought after by those who know their worth. People of the Georgian period might have used a bed warmer as well.
Because there was no specific room for bathing or washing, you'll find an ornate basin placed on a small chest set by the bed. No doubt there would also have been a chamber pot in a cupboard, for night-time use.
here is a list of the main art styles that was use to influence interior design in the 18th century:
georgian style –
The Georgian period covered the years from 1714 to 1830 when there were four consecutive King Georges on the throne. Georgian architecture and interiors were known for their elegance and lightness of touch. Among the most enduring styles was Neo-classical, based on Roman and Greek architecture and championed by architects such as Robert Adam. Georgian style at a glance incorporated: Roman-inspired elements such as niches and alcoves; use of the three Classical columns – Corinthian, Ionic and Doric; stonework, ironwork and marble with shield and urn motifs and carved statuary depicting Roman gods and goddesses; classical figures, shown in profile, and used on plasterwork, vases and urns; motifs such as swags, ribbons, garlands, husks and the Greek key pattern; real and imaginary animal figures such as dolphins, sphinxes, griffins and satyrs, often forming bases or handles of objects; and pastel colour schemes, especially pea-green, mauve and pink.
links:
2. Chippendale Furniture Style –
Chippendale furniture came to life from the perfect blend of gothic, rococo, and Chinese design influence. Gothic style was incorporated through elements such as pointed arches, s-shaped curves, and wooded lattice. Broad chair seats with interlacing ribbon backs were influenced by rococo design. Chinese influence is found in fretwork design and jappaning. Although elaborate, Chippendale design is considered conservative in comparison to other English design of it's era. Numerous defining characteristics can be found in Chippendale furniture.
Furniture was commonly constructed of mahogany, walnut and cherry wood. As Chippendale furniture became more popular, stained maple was used to reduce cost while maintaining the intricate designs. The darker woods were left in their natural state or finished with clear coats of wax. Furniture made with maple wood was stained dark to mimic the richness of the darker woods. Only the most lavish upholstery was used to accent the beauty of the Chippendale wood designs.
The gothic, rococo, and Chinese influence can also be found in the design of the legs, feet, and backs of Chippendale furniture. Common furniture legs include, straight Marlborough, cabriole, curved and fluted. The trade mark foot of Chippendale furniture is the ball and claw-foot. Chair backs are adorned with ribbon and shell motifs.
there are 6 types of styles to tomas's work, which are:
lion paw
ball and claw
the club
maelborough
the late chippendale
the spade
from what I could find about the 18th century interior designs, here are some brief descriptions about what the floors and walls were evolved around, such as:
flooring – there designs were evolved around Tessellation and geometric shapes with no overlaps and no gaps with contrasting colours, in fact in the 18th century tile flooring was more liked and used than wood flooring by the rich and high class society. The designs of the tiles were evolved around floral patterns, such as: flowers, leaves, vines, etc. as well as scene like tea sets, boats, fruit, war scene's, etc. The tiles were either made by stone or marble.
walls – these designs were evolved around Georgian interiors which came with interior wall panelling made with knotty pine wood and wallpaper became a substitute for wall coverings. Paper imitating tapestries and marble-like paper was extensively used as wall finishes and by the end of the century was replaced by scenic and pictorial papers with Chinese-themed designs
wallpaper examples:
dictionary:
here are the websites I found my research on:
the most helpful website's, i found, are:
idea's
for my jewellery designs, I want to forces and base my jewellery off 18th century Tessellation and geometric tiles, interior design and 18th century frames, as well as cloths if possible, for example: in the 18th century, cloths and interior designs were mostly basted off baroque, floral designs which could be interrupted with many different art style's, such as:
alongside cloths and interior designs, was also mainly design of floral designs too therefore I plan to go off 18th century jewellery when designing my own jewellery, for example, in the 8th century jewellery mostly evolved around, necklaces, earrings, rings, brooches, hire pins and ordainments and very rarely were bracelets worn. furthermore I will put my designs in my book by separating my designs in to 3 volumes, for example:
volume 1: will be jewellery based of 18th century tessellation and geometric tile.
volume 2: will be jewellery based of 18th century interior designs, mostly focusing on chairs and tables as well as lather furniture.
volume 3: will be jewellery based of 18th century painting frames.
and in each volume, they will have 5 chapters, each one for the 5 main designing styles from the 18th century with jewellery designed in the same style as the chapter, for example:
volume 1: will be jewellery based of 18th century tessellation and geometric tile
chapter 1: tessellation and geometric based jewellery in The Baroque style
chapter 2: tessellation and geometric based jewellery in The Rococo style
chapter 3: tessellation and geometric based jewellery in The Neoclassicism style
chapter 4: tessellation and geometric based jewellery in The Chinoiserie style
chapter 5: tessellation and geometric based jewellery in The Medieval Revivals style
In order to organize and to make it easier for me when designing my jewellery, I have been collecting example image's of each of the 5 designing style, mostly using Pinterest and online websites like google images because I unfortunately don't have any primary recourses I can visit, however I do have some sufficient primary research which I believe isn't lacking any quality to my work, even though it is limited at this moment in time:
I will also collect research on flowers since everything in the 18th century was mostly based on a floral design: for example books and using the internet.
books:
"The Flowering Of Kew" by Richard Mabey
websites:
primary and secondary research key:
volume 1: will be jewellery based of 18th century tessellation and geometric tile.
volume 2: will be jewellery based of 18th century interior designs, mostly focusing on chairs and tables as well as lather furniture.
volume 3: will be jewellery based of 18th century painting frames.
primary research

:

volume 1 primary research:

(floor tile)

volume 2 primary research:

(18th century interior design and furniture)

volume 3 primary research:

since I'm focusing on the 18th century, i remembered that last year i went on a college trip to Manchester gallery and because non of the art work was related to the piece i was doing at the time i decided to take photos of the frames instead of the art work itself. the frames were of the 17th, 18th and 19th century which i though would be great to use when designing my 18th century jewellery.
18th century frames:
while looking for primary research, i noticed that some of the walls in my house have a 18th century themed design which i would like to use, if possible, when I'm designing my jewellery:



secondary research:
volume 1 secondary research:
(floor tile images and wall paper)
volume 2 secondary research:
here is a link to my Pinterest account were i found images of 18th century interior designs which includes floor tiling, wall panelling, wall paper, and furniture of the/ nearest to 18th century as possible: https://www.pinterest.co.uk/ashton6612/18th-century-interior-designs/. out of the photos i found, i will choose the best one's/ or those that give me ideas for my jewellery and design from them in my book.
i also used Pinterest to look for images of 18th century jewellery, here is the link: https://www.pinterest.co.uk/ashton6612/18th-century-jewellery/.
for my 18th century furniture research, i used multiple website to fine the images which i will choose the ones i find inspirational and put there in my book were i will design my own jewellery off of them:
these two images of the red and gold chair are one's i took during my trip to Manchester gallery which i find is relevant to my current unit I'm doing.
volume 3 secondary research:
(18th century frames)
T
ime-Line
while researching 18th century jewellery I wanted to create a time-line to help further understand the fashion trends and process before, during and after the 18th century, which I found multiple websites, for example:
(the websites are in order basted on the timeline)
I also found a youtuber named Jill Maurer, who's a jewellery designer herself and In the video's I found, she further covers the Georgian era and the Victorian era.
please watch them in order:
1.https://www.youtube.com/watch?v=eAHbkje2goY
2. https://www.youtube.com/watch?v=yPicNWdpUZY
The Georgian era – 1714 – 1837- main key points: 
history, social preferences, industrial capabilities main-points:
The Georgian period, from 1714 to 1837, was named for, and defined by, the Hanoverian Monarchs of the United Kingdom. These included the four Georges; George I (r. 1714-1727) – 52nd in line to the throne, George II (r. 1727-1760), George III (r. 1760-1820) – the longest reigning king in English history, George IV (r. 1820-1830) along with William IV (r. 1830-1837).
While the reign of English Kings defines the parameters for Georgian jewelry, stylistically the designs, trends, and ideas were shared internationally and the Georgian aesthetic turned up all over Europe and America. At the same time, on the European continent, styles were developing known as the Louis styles, named after the French Kings Louis XIV, Louis XV and Louis XVI. At the dawn of the 19th century, we saw the Empire style of Napoleon Bonaparte. In this century of artistic and political turmoil, there were many forces at work.
At the beginning of the Georgian era there was a rule only royalty could wear jewellery because there wasn't much jewellery around except for the crown jewels, however later on, more people began to scoff at this rule and began to wear jewellery, this is when jewelry became to increase.
In the Georgian era, men wear jewellery much more then woman such as belt buckles, shoe buckles, buttons, rings, broches, and large necklaces.
In the Georgian era, the making process of the jewellery was made by hand, there was no machines at this time so thay had to hammer out sheets of gold and carve the metal with tools, unlike today were we can order peises of gold in our desired shapes like thin wires and chains, etc. Around 1750 the roiling mill was invented which saved a lot of time in the making process.  
The designing style key points: 
In the early part of Georgian jewellery the designs were very beroke, symmetrical and ornate, for example: bracelets were worn in pairs. jewellery in this time came is set from 5 to 10 pieces and each piece was designed to compliment each other, furthermore most of the pieces were convertible, meaning a party earing could detach and became smaller evening earrings, necklaces could become broches, etc. so most would buy one set and were it different ways. It was a time of Mozart, Gainsborough and the decorative aesthetics of

Rococo,

Neoclassicism

, and Romanticism. In the later part of this time, the design

became

more open and less symmetrical.
during this period, the jewellery that was made of gold alloys were 18 karat and higher, hens why only royalty and high class family's could afford jewellery.
In the early Georgian times between 1714 to 1750,  when making the jewellery the gem's were rose cut, meaning a flat bottom and a round top, or mine cut, meaning they are cut at the mine following the stone, this intern resulted in the shape being wonky and odd. furthermore when they're placed the stones in the jewellery they had a foil backing, like a light court of metal, for example silver, which made the gem look more bight and more colourful by candle light.
later in the Georgian times, around 1750 they began cutting the gems in cabochon shape and brio lays.
In this period, morning jewellery was made from saved hair from hair brushes, for example: hair was put into rings and necklaces as charms as well as bracelets, in which the band of the bracelet was make with woven or plated hair.
among the other jewelry there were a style called trembler jewellery which consist of, for example: a floral broch were the flowers would move from the vibration because they were attach with a string. this style was mostly used on broches and fancy hair piece's.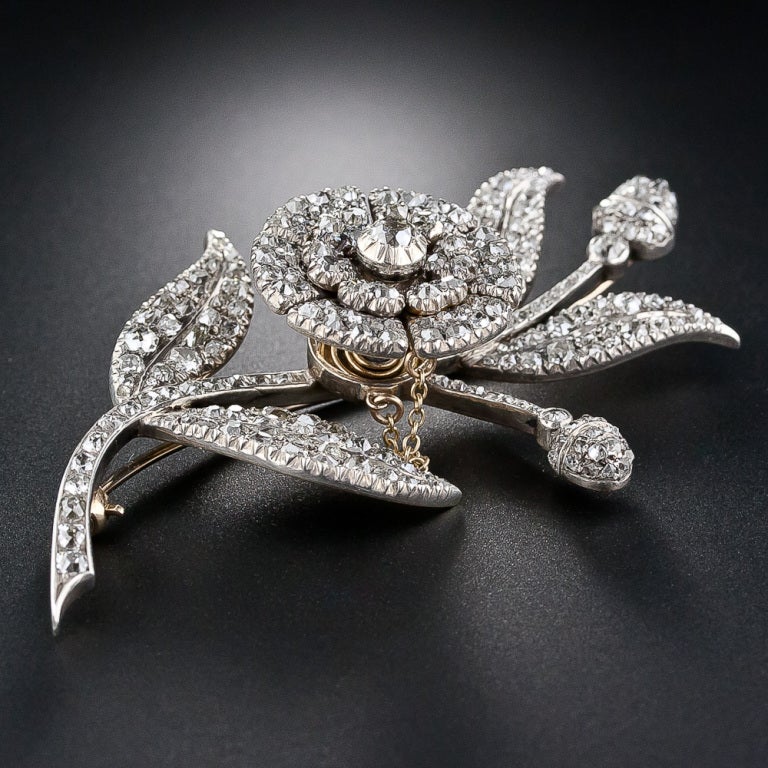 Jewellery material main-points:
At the beginning of the Georgian era, 1714 to around 1750 the only gems used were diamonds such as Garnet, topaz, emerald, and ruby were popular. after 1750 jewellery began becoming for colourful, they became to use peal, coral, shells, amber, ivory, turquoise, translucent agates and carnelian were used in a variety if ways. Strands of beads, rivière necklaces, parures, cameos, and intaglios all featured these natural gems. Right alongside, and almost equally as popular, were the imitations; paste, faux pearls, opaline glass, Vauxhall glass, tassies and Wedgwood's Jasperware beads and cameos.
During this period, the jewellery that was made of gold alloys were 18 karat and higher, hens why only royalty and high class family's could afford jewellery.
Karat Values and Their Percentage Equivalents- 
Here are the most widely used karat marks and their corresponding percentages (in brackets you can see the respective parts-per-thousand values):
24K – 99.9% (999)
22K – 91.7% (917)
20K – 83.3% (833)
18K – 75.0% (750)
14K – 58.3% (583)
10K – 41.7% (417)
Iron and cut steel jewelry with incredible detail were at their apex during the Georgian era. In an attempt to create gold from base metal, Christopher Pinchbeck created a wonderful alloy of copper and zinc and, in a rather magical way, it became desirable in its own right. These metals along with gold and silver were all utilized as materials for Georgian jewelry.
Timeless longchains were created through the use of various techniques, in a myriad of shapes, with patterned links, woven or knitted, and were a signature of the period. In France, the collière d'esclavage featured swagged chain of various link designs linked to central plaques creating a draped symmetry.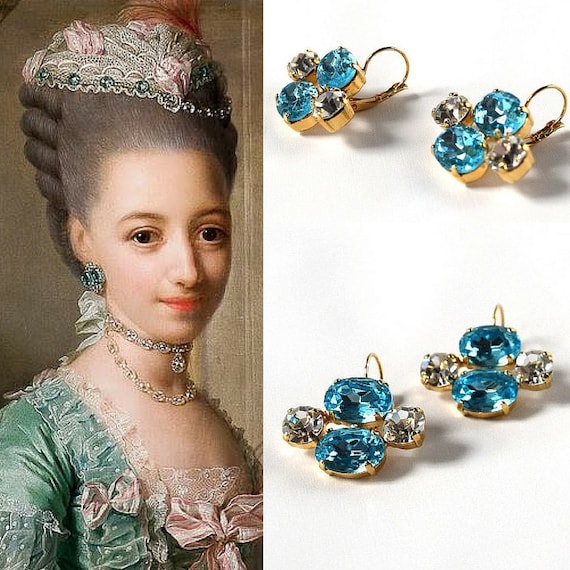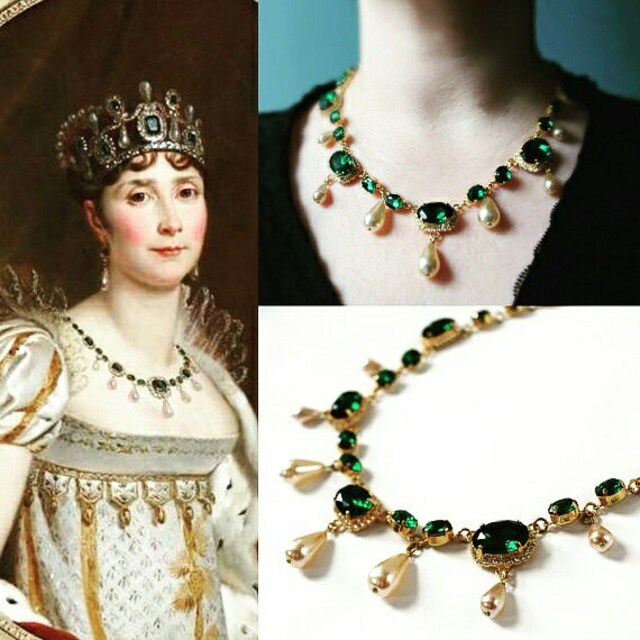 nowadays its difficult to find Georgian pieces because not only are they getting old but back then in order to make new, up to date trendy jewellery, they melted down there old ones to create new ones, this saved money for materials and space, however it is unfortunate.






The Victorian era – 1837 – 1901 – main key points:
The Victorian Era began and ended with Queen Victoria's reign. She ascended to the throne of the United Kingdom in 1837 and died in 1901. Those sixty-four years witnessed enormous changes in industry, society, fashion, and, of course, jewelry. For example, it started with horse-drawn carriages and candlelight and ended with automobiles and electricity, as well as indoor pluming and photography.  The term "Victorian" refers broadly to the British art and culture produced during this time.
The Victorian era is split in to 3 parts, the first – the Romantic period, the second – the Grand period and the third – the Aesthetic period. In terms of jewelry, each sub-period had different motifs, gems, metals, and fabrication techniques that rose and fell in popularity. However, some elements endured and saw transformations, some of which can help date a piece. For example, hair jewelry was worn in the Romantic Period, but its popularity reached its zenith during the Grand Period. Thus, the repoussé metal work of a dainty locket containing a lock of hair would pinpoint the piece as Romantic Period jewelry. On the other hand, a large, imposing brooch showcasing a dark gemstone, framed with braided hair, would most likely fall into the Grand Period.
The Romantic Period – 1837 – 1860: 
The Romantic Period reflected the love of a nation for its young queen and her love for her husband, Prince Albert. Unfortunately His death in 1861 marked the end of the Early Victorian Period and the beginning of the Grand Period. 
As soon as queen Victoria took up the thrown, all eyes were on her, and she set many trends and standers of the time. the reason being was mostly because of woman's magazines, woman's magazines started at this time and began to grow in popularity and some of the woman's magazines stated that their goal was to 'bring the palace to your home'. everyone was watching what queen Vitoria did, what she liked in terms of clothing, jewellery, furniture, everything, they were trying to emulate her and copied everything she did.
Romantic Period jewelry was very sentimental, the reason being because queen Victoria loved jewellery and though she offend wore the royal jewellery, her favorite was her sentimental jewellery, especially the jewellery her husband prince albert made and gifted to her as well as gifted jewellery from other royal families, friends, etc. queen Victoria often wore a pendent with a portrait of prince albert in it with a stand of his hair.
prince albert had a lot to do with queen Vitoria's jewellery, he actually designed pieces of jewellery for her, and he aloud her jewellery to be displayed in public setting in big national shows, so both high class and low class people could see the jewellery queen Victoria wore, not just the crown Jewells and the like put her everyday jewellery, this gave the people a chance to look at them, draw from them and copy them. at this time woman started to wore more jewellery then men, this is because they started imitate queen Victoria and also because jewellery became more accessible.
Jewellery material main points –
During the Early Victorian period, the Industrial Revolution surged ahead. Factories opened at an unprecedented rate, and trades and industries flourished. Mass production meant jewelry was no longer made strictly by hand.
Jewelers frequently used 18k and 22k gold for their creations. However, before the California Gold Rush (1848-1855) alleviated a gold shortage in Britain, lower karats and gold plating were common, for example: 9k, 12k and 14k gold, up until then it had to be 18k or 22k gold. this allowed more people to afford it.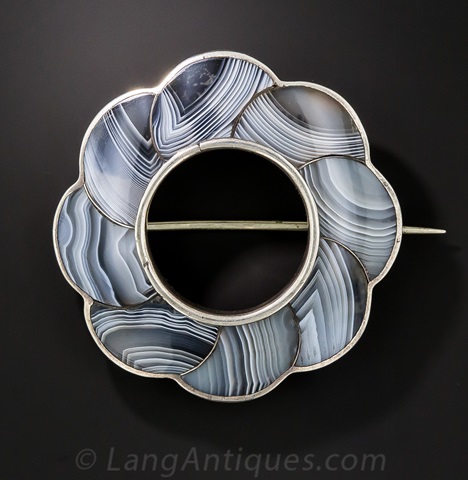 Repoussé was a common metal working technique of the Early Victorian period. It involved hammering malleable metal into intricate designs and patterns.
The popularity of cannetille continued from the late Georgian into the Romantic Period.
It featured intricate wire work designs resembling embroidery-inspired filigree.
Metals commonly used during this period include:
18k to 22k gold in all colors except white.
Rolled gold (gold sheets soldered to base metal sheets).
Gold electroplate (thinner sheets of gold fused to a base metal).
Pinchbeck (83% copper and 17% zinc).
Aluminum.
Cut steel.
designing style key points – 
Romantic period jewellery was themed from branches, flowers, grapes, eyes, hands, hearts, anchors, crosses, arrows, clovers, love knots, garters, buckles, vines, and leaves. Seed pearls were frequently arranged in grape clusters. Enameling also enjoyed popularity. serpents and snake was also widely popular because queen Victoria first wore a snake bracelet to one of the first events as queen and would often wore them. the snake represented wisdom which is why is wore it. 
The Romantic Period saw a renewed interest in Gothic and Medieval themes. Archeological excavations of Ancient Greek, Roman, and Egyptian sites also fascinated people. The jewelry of the period often reflected designs inspired by these eras.
France's presence in Algeria ushered Moorish motifs, such as knots and tassels, into Romantic Period jewelry. After Queen Victoria and Prince Albert purchased their Balmoral estate in Scotland, Scottish designs also became prevalent in jewelry.
Prince Albert's engagement ring to Queen Victoria featured a serpent with an emerald set in its head. As symbols of eternal love, snakes became very popular motifs in Early Victorian jewelry.
The most popular styles were sea pearl necklaces, micro mosaic pieces ( like when you see a large micro mosaic on a wall but smaller), cameos (Greek themed) and Girandoles.
Acrostic Jewelry
Jewelry aficionados arranged gemstones in settings so the first letter of each gem spelled out an endearing word.
For example, the acrostic ring below contains a ruby, emerald, garnet, amethyst, ruby, and diamond. They spell "REGARD." Pieces like this exemplify the sentimentality of Romantic Period jewelry.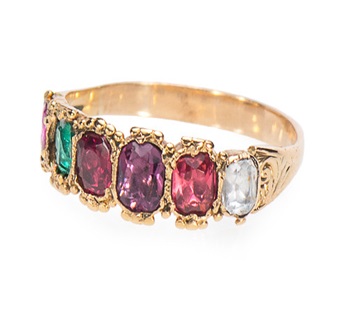 annamal pieces and lockets representing travel became incredibly popular at this time.
Popular Gemstones and Cutting Styles in Romantic Period Jewelry
Jewelers used a wide variety of gem materials during this period. Among the most popular: agate, amber, amethyst, chalcedony, chrysoberyl, diamond, emerald, garnet, malachite, seed pearls, quartz, topaz, and turquoise. Other materials frequently found in Romantic Period jewelry include ivory, lava stone, and tortoiseshell. Coral was also prized as a jewelry material. (The redder, the more expensive).
Gutta-percha, a sap from Malaysian trees, could be molded into durable pieces for jewelry use. Since this material had a brownish to black color, jewelers used it for mourning jewelry in particular. Vulcanized rubber was also used for similar jewelry purposes.
Bog oak, Irish wood recovered from immersion in bogs, was hand carved and used in jewelry until the 1850s.
Notable gem cutting styles included:
Rose Cut: round shape with a domed top and flat bottom.
Old Mine Cut: rounded square shape with many facets. Closely resembles today's modern round brilliant cut.
Cabochon: rounded top and flat bottom.
The grand period – 1860 – 1885:
In 1861, Prince Albert of the United Kingdom passed away, and the American Civil War started. Both incidents brought an abrupt halt to the whimsical romance of the Early Victorian Period . So began the Grand Period (1861-1885) of the Victorian Era.
Although death and war perpetuated the Victorian desire for remembrance jewelry, new developments and ideas influenced Grand Period jewelry, too. In 1879, the incandescent bulb placed jewelry in a whole different light, literally. Diamonds dazzled under electricity. The discovery of a diamond mine in South Africa in 1867 had created a great demand for the gems. The Grand Period also opened doors socially for women. As men were called to war, women filled the jobs they vacated.
Queen Victoria mourned her husband until her death in 1901. This set the tone for Grand Period jewelry manufacturing. However, her subjects buckled under the heavy gloom. By 1885, they eventually turned to the lighter jewellery and clothing styles of the Late Victorian Aesthetic Period.
This was a time were women just started competing with men for jobs and were allowed to keep there own money for the first time in history. clothes wise, women's scurts got a little wider and necklines got a little lower but the jewellery was still prolific, and instead giving of an ensoomed, young look, jewellery became more mature.
steam power was also introduced in to cutting diamonds, so they became more wonder, there were still a little off and wonky but rounder.
jewellery material main-points:
Metals commonly used during this period include: low karat gold (9k, 12k, and 15k); rolled gold; silver; and steel.
Around 1880 when electricity was invented and became more and more popular, colour stones fell out of favour because they seemed garnished and gradie in the electric light, prier to this it had always been candle light. This is when colour stones are replaced with diamonds
designing style main-points:
Heavy, massive jewelry reflected the opulence of the time, as industry boomed and created millionaires overnight.
Jewelry makers used silver enthusiastically after its discovery in Nevada in 1860.
Grand Period jewelry often featured gemstones in hammer or so-called "gypsy" style settings. The gems were almost embedded into the pieces, with minute prongs holding them in place. Pavé settings, also popular, featured stones set with almost invisible prongs, creating pieces "paved" with gems.
Brooches now contained a lever catch in the "C" design clasp for improved security.
Motifs in Grand Period Jewellery –
Popular motifs included: acorns, bees, bells, birds, crescents, crosses, daisies, hearts, monograms, stars, and shield shapes. Geometric patterns were common. Enameling remained popular.
Archeological digs continued during this period, generating great public curiosity. Thus, Ancient Greek, Roman, and Egyptian designs remained popular and inspired cameo use. Excavations of Ancient Etruscan cities in Italy brought about a revival of Etruscan designs in jewelry. In particular, an ancient metal technique featuring fine, beaded granulation was resurrected.
What Were the Hot Items in Grand Period Jewellery? –
Earring of all sizes were popular. Post earrings were introduced during this time period.
Other popular items included:
Hair jewelry.
Large necklaces with large pendants.
Long, rectangular bar pins.
Tiaras and tortoiseshell combs.


 
Cabochons with Embedded Gems
Jewellers would sometimes embed smaller gem designs in the center of cabochons.
For example, this locket features a 0.25-ct cabochon-cut amethyst with an embedded starburst of eighteen rose-cut diamonds surrounding a centered, old mine-cut diamond, 0.37-ct total weight. The blue beads reflect the Etruscan revival. This piece boasts a substantial amount of gems and exquisite craftsmanship. The combination makes this locket a rare find.
Memorial Jewellery
This locket features two round and clear rock quartz discs hinged at the top in 15k yellow gold. With the name of a loved one and the date of death engraved on the front, this piece exemplifies the memorial jewelry popular during this period. The locket's excellent condition and engraving make it valuable.
Micro-mosaic Jewelry
Fabricated in Florence, Rome, and Venice, these pieces assembled tiny tiles of gemstones and glass (tesserae) into artistic designs.
For example, this micro-mosaic brooch features an Egyptian scarab beetle fashioned entirely out of tiny glass tiles. A 15k yellow gold mounting houses the micro-mosaic. How closely the tiles fit together and whether they're free from chips or cracks set the value of micro-mosaics.
Bracelets
Popular styles included: bracelets with buckles; wide mesh bracelets with enameling and foxtails; and wide bangle bracelets.
For example, the wide bangle bracelet below serves as an excellent example of Grand Period jewelry style. Silver with gold overlay, the bangle features acorns and leaves as motifs. This substantial piece is in excellent condition.
Lockets
This locket features "carbuncles," or cabbed garnets, surrounding a star of nine old mine-cut diamonds. These gems are set in a 15k yellow gold mounting with scalloped edges. The locket also has a hinged, garnet drop. The perfectly matched and cut garnets, along with the number of diamonds, make this piece valuable.
Popular Gemstones and Cutting Styles in Grand Period Jewellery: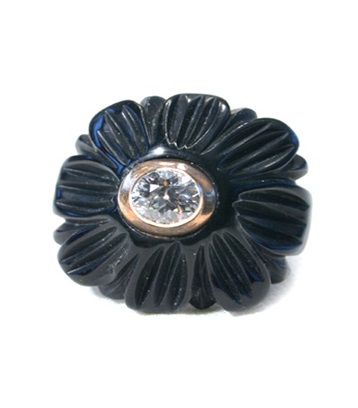 Popular stones included: amethyst, diamond, garnet, jet, onyx, opal, pearl, ruby, sapphire, and turquoise. "Carbuncles," or cabochon-cut garnets, commonly appeared in pendants, brooches, and necklaces.
Materials such as bog oak, coral, ivory, and tortoiseshell were also used as gems.
Goldstone, a glass gem simulant, was widely used.
Notable gem cutting styles included:
Rose Cut: round shape with a domed top and flat bottom.
Old Mine Cut: rounded square shape with many facets. Closely resembles today's modern round brilliant cut.
Cabochon: rounded top and flat bottom.
The Aesthetic Period – 1885-1901:
Queen Victoria of England mourned the death of her husband, Prince Albert, from 1861 until her death in 1901. However, her subjects tired of the stiff and brooding decorum of those Middle Victorian Grand period years before that point. By 1885, they kicked off its heavy trappings and ushered in the Late Victorian Aesthetic Period (1885-1901).
During this time period, electricity became a feature of newly constructed buildings. Thriving industries created a growing middle class with free time on its hands. As a result, the entertainment industry boomed. Actors and actresses became fashion trendsetters. Women formed an integral part of the workforce. They also enjoyed new found freedoms in leisure activities, such as tennis and bicycling.
The Aesthetic Period, and the Victorian Era, closed with the death of Queen Victoria in 1901.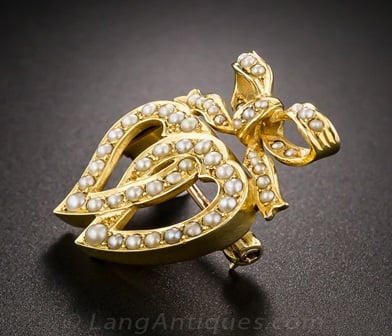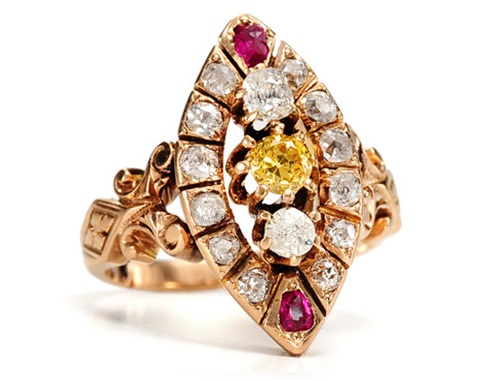 jewellery material main-points:
Metals commonly used during this period include: gold, rolled gold, silver, oxidized silver, and platinum.
jewellery designing main-pionts: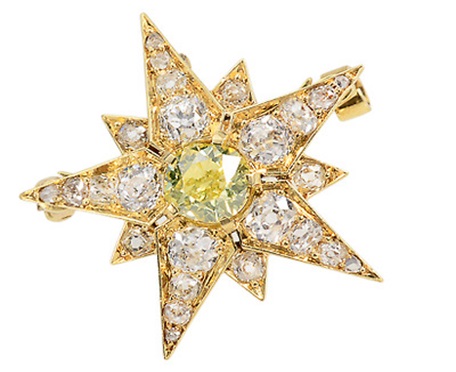 Jewelry pieces in the varied styles of this period fill antique stores across the country. Whether whimsical or imposing, this jewelry design period has a style for everyone.
Most Aesthetic Period jewelry was machine produced. Manufacturers stamped their marks on these pieces. However, many jewelers resented the onslaught of mass production and returned to hand fabrication.
The heavy jewelry of the Grand Period didn't fit well with women's new active lifestyles. Therefore, women's jewelry became lighter and smaller. Delicate rings, bracelets, and pins replaced the heavy opulence of previous years.
Late Victorian Period brooches had two-pronged lever clasps or hinged tube catches. Many featured attached safety pins.
from the mid- period to late- period of the Victorian period, jewellery began to become smaller, like small 2p coins and would sometimes come in groups. At this point in time, woman began waring the hair shout and an example of a ideal woman in this time would have to be the Gibson girl.
here is a link that will go in to further detail about the Gibson girl:
Motifs in Aesthetic Period Jewelry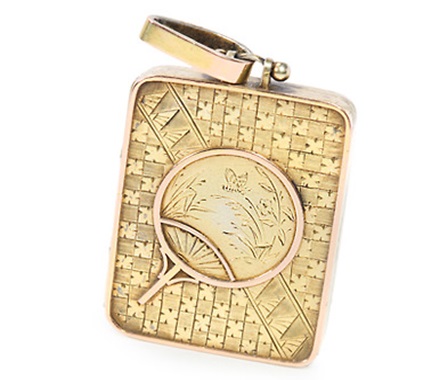 Etruscan and Egyptian revival themes continued to fascinate jewelry enthusiasts. Aesthetic Period pieces also featured Oriental and sporting themes.
Popular motifs included: animal heads, barrels, bows, clovers, crescents, horseshoes, knots, oak leaves, owls, quatrefoils, stars, trefoils, and wishbones. Designers often combined double hearts with crowns or knots.
Popular Gemstones and Cutting Styles in Aesthetic Period Jewellery: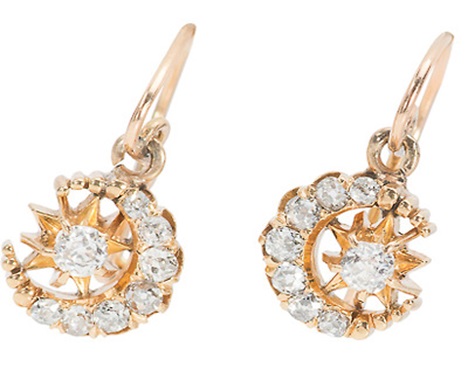 The jewelry of this period frequently featured the following gemstones: amethyst, aquamarine, chrysoberyl, chrysoprase, diamond, emerald, black glass, horn, moonstone, opal, pearl, peridot, quartz, ruby, sapphire, and turquoise.
Notable gem cutting styles included:
Rose cut: round shape with a domed top and flat bottom.
Old Mine Cut: rounded square shape with many facets. Closely resembles today's modern round brilliant cut.
Old European Cut: round faceted shape. Although a precursor to today's modern round brilliant cut, it's clunkier. You'll frequently find this cut used in rings dated through the 1900s.
Cabochon: rounded top and flat bottom.
What Were the Hot Items in Aesthetic Period Jewelry?
Tiffany and Co. kick started the diamond solitaire engagement ring trend during this time period.
Popular pieces included small stud earrings, stick pins, and class rings. People often wore heart-shaped lockets on bracelets.
Vinaigrettes, small metal containers for scented sponges or spices, enjoyed widespread use.
Small brooches were often worn in en masse, scattered across necklines.
Mizpah Jewelry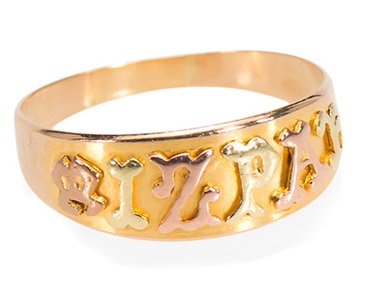 These pieces were emblazoned with the Hebrew word mizpah. This means "the Lord watch between me and thee while we are absent one from another." They became quite popular during the Aesthetic Period.
This ring, in excellent condition, features the word mizpah in 18k yellow and rose gold. The raised letters in alternating gold colors is unusual.
Chokers or Dog Collar-Style Necklaces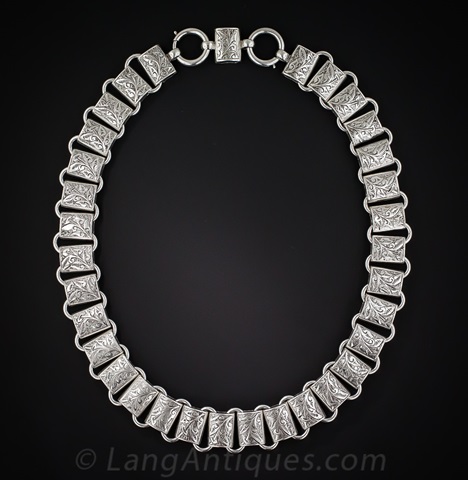 Collar-style necklaces like this were popular during the Aesthetic Period. Its seventeen inches of silver fit snugly around the throat. The links in this awesome find are hand engraved rather than machine stamped.
during the end of the Aesthetic Period, people began to think that diamonds were garish during the day so yay only wore then a night.
jewellery artist research from 1714 to 1901: